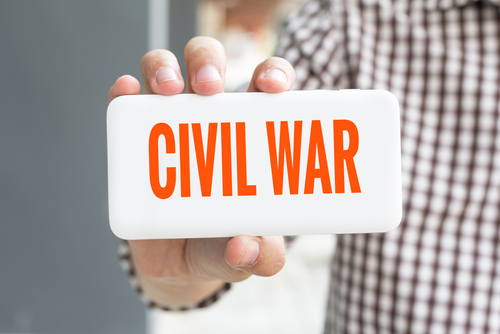 QUESTION: Mr. Armstrong; Thanks to you I am paying closer attention to what people are saying in politics these days. It seems to be that this was not a Blue Wave they were waging but a Blue War. It is very disturbing to see the hatred is still brewing against anyone who just wants to be left alone. Is this the foundation for the rising civil unrest that turns to a civil war?

…

ANSWER: Unfortunately, YES! It is really very bad. The CNN political analyst Kirsten Powers actually said that all white women who voted for Donald Trump are racist! She then added that there were those who felt they had to select Trump because Hillary Clinton was simply a terrible candidate whom they could never support. We have three girls all under thirty in the office and they do not identify with Hillary's '60s Bra-Burning attitude. The one thing they did not like was Hillary said women were equal and should be drafted into the army as well.

…

It will only get much worse over the next two years and by the time we get to 2020, it is not going to look very civil out there. We have crossed the line. Violence and hate speech is not the norm. There is no tolerance for people to accept an opposing view.

…

If we look at the timing from Dred Scott decision, the war began when the Confederates bombarded Union soldiers at Fort Sumter, South Carolina on April 12, 1861, which was 4.1 years or almost the half-cycle point of 4.3 years. The war ended officially in the Spring of 1865. Robert E. Lee surrendered the last major Confederate army to Ulysses S. Grant at Appomattox Courthouse on April 9th, 1865. However, it was the Shenandoah surrender on November 6th, 1865 that marked the final military activity.

Therefore, if look at that timing, it would appear that 4.3 years from Trump swearing in on January 20th, 2017 brings us to 2021.354. If we throw in all the economic problems we see coming with pensions and a monetary crisis on top of all of that, I would not count of 2020 being a normal presidential election. It may be the most violent event in American political history.
Full article: Will the 2020 Presidential Election be the Most Violent in American History? (Armstrong Economics)