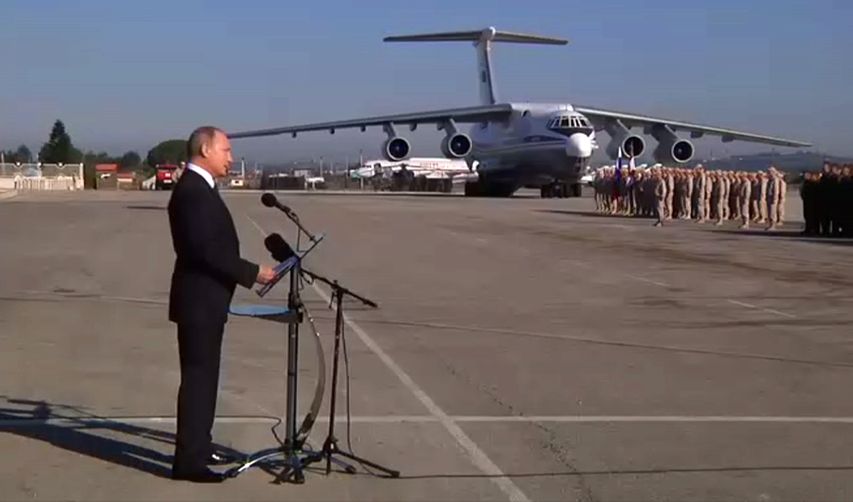 The Russian President Vladimir Putin's airplane made a surprise landing Monday. Dec. 11, at the Russian Hmeimim air base in Latakia and announced he had ordered Russian troops to start withdrawing from Syria.

Putin arrived with defense minister Col. Gen. Sergey Shoigu. Straight after his welcome by a guard of honor composed of Russian units serving in the Syrian war, Putin took the microphone for this announcement: "I order the defense minister and chief of the general staff to start the withdrawal of Russian troops to their permanent bases." He went on to say: "In the space of two years, the Russian and Syrian militaries have defeated the most battle-hardened grouping of international terrorists." He then issued a warning to the various terrorist elements still operating in Syria, "Russia will strike them as they have been seen before."

..

DEBKAfile adds: Putin staged his surprise visit to Syria and comments in order to generate the impression that the Syrian war was over – which he has been trying to do for some weeks – that it had ended in victory for the "Russia and Syrian militaries" and that the time had come for a political resolution.

…

The Russian president also skipped reference to the US coalition fighting ISIS in Syria, including the Kurdish YPG militia which liberated Raqqa, pretending the "victory" was just down to the Russian and Syrian armies. But his presentation of the situation is bound to boomerang. The fact remains that US and Kurdish forces control parts of northern Syria; Islamist extremists groups led by the Al Qaeda-affiliated Hayat Tahrir al-Sham rule much of Syria's largest province of Idlib, and motley Syrian rebel groups hold onto areas around Damascus. Southern Syria is pretty much the same sort of patchwork quilt. The Syrian war is therefore very far from over.
Full article: Putin lands in Syria on announced visit to create false impression war is over (DEBKAfile)