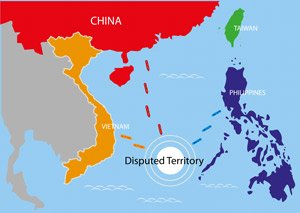 On Sept. 20, 2017, Singaporean Prime Minister Lee Hsien met with Chinese President Xi Jinping.

Xi called Lee's three-day visit "a reflection of the closeness of the two countries' relations," according to Fox News.

And that could mean trouble ahead for the United States…

Why Singapore May Side with China Over the United States

…

The United States believes countries have a right of navigation through the waterway and that China should "live up to its obligations" after the PCA's rulings. But according to Fox News, Beijing rejected the ruling as null and void.

Now China is putting pressure on Singapore to stop siding with the United States…

China refused to invite Lee to its "Belt and Road Forum for International Cooperation" in May because of Singapore's support of the U.S. presence in the South China Sea. At the forum, 29 foreign heads of state and government representatives discussed plans to build trade and transportation links between Asia, Europe, and Africa.

So why did China invite Singapore to Beijing just four months later to talk about the "closeness" of the two countries?

China may be trying a new tactic…

The September meeting could have just been a way for China to remind Singapore how much money China pours into its economy.

You see, Singapore exported $26 billion in goods to China in 2016. Losing China as an importer could cut Singapore's $297 billion GDP down by more than 8% and wreak havoc on its economy.

That means China has economic leverage over Singapore, and if China chooses to use it, then the United States could lose a crucial ally in the region.
Full article: Are China and Singapore Allying Against the United States to Control the South China Sea? (Money Morning)