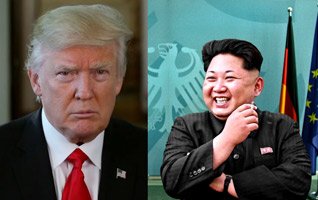 North Korean dictator Kim Jong Un's decision not to bomb the American territory of Guam was a strategically planned chess move.

It was a stalling tactic on the regime leader's part to give the United States one last chance to strike a deal with North Korea – on North Korea's terms.

And whatever Washington does in response will come with enormous risk.

Here's why…

Deal or No Deal with North Korea

…

But if Washington gives the North what it wants, then Uncle Sam would lose its biannual naval drills with South Korea – which have been in place since 1953.

Because that's exactly what Kim Jong Un wants.

And soon.

Stop the Drills and North Korea Says It Will Stop Building Weapons

Once again, North Korea is demanding that the United States and South Korea cancel and dispel their twice-yearly joint naval exercises in the East China Sea.

…

You see, to North Korea, they are rehearsals for an eventual invasion – an overwrought taunt, right in North Korea's backyard.

Washington and Seoul, however, have always maintained that the exercises are defensive in nature, nothing more.

And twice a year, after stating as much, the two nations have always returned to their regularly scheduled Asian Pacific war game programs.

But this year is different.

The United States and South Korea have never held their exercises amid such heightened tensions before.

Because North Korea's never had this kind of leverage before…

North Korea's Threats Are Less Empty Than They Used to Be

Twice in July, the isolated nation test-launched intercontinental ballistic missiles, or ICBMs, that can reportedly deliver nuclear warheads to targets thousands of miles away.

This came as a shock to American diplomats and military officials who, until that point, didn't believe Pyongyang was capable of such advanced weapons creation.

…

A little over a month and one more successful ICBM launch later, on Aug. 8, The Washington Post published a confidential U.S. intelligence report, which revealed that North Korea had produced a miniaturized nuclear warhead capable of fitting into one of the aforementioned ICBMs.

Again, shock and awe from some of the highest positions in U.S. defense and government.

…

President Trump's Lesson: What to Keep and What to Let Go

"[Kim Jong Un's decision to back off] is a direct invitation to talk reciprocal constraints on exercises and missile launches," said Adam Mount, senior fellow at the Center for American Progress, according to the UK's Telegraph on Aug. 14.

…

Kim seems willing to talk – at least about what he wants from a possible U.S.-North Korea deal.

But Daniel Pinkston, a professor of International Relations at Troy University in Seoul, claimed that calls to reduce or suspend the naval drills are misguided and that they risk increasing, rather than reducing, North Korea's threat.

…

Either way, Washington will have to make a decision.

And either way, Washington has a lot of potential downside.
Full article: We're About to See the U.S. Lose in an Unprecedented Deal with North Korea (MoneyMorning)