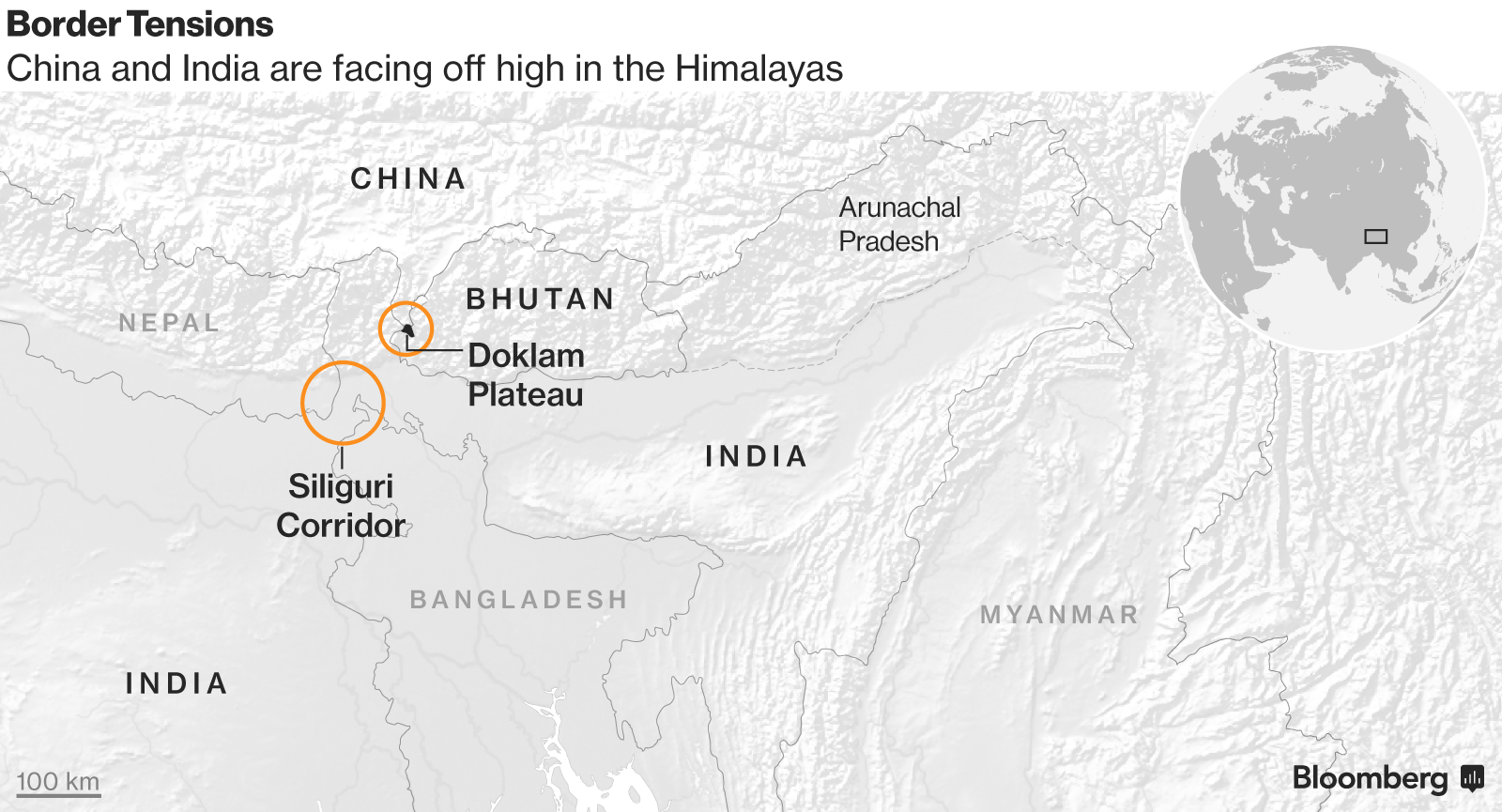 China and India, two nuclear-armed powers with a combined population of 2.7 billion, have been in an "eyeball-to-eyeball" military stand-off over territory in Bhutan, a kingdom in a remote area of the Himalayas, since mid-June. The flare-up, one of the most serious since China won a border war in 1962, comes as the two rising powers jostle for regional influence. The current dispute is near a three-way junction between Bhutan, China's Tibet and India's Sikkim.

1. Why is the area important?

All land-based military and commercial traffic between India's northeastern provinces and the rest of the country travels through the narrow strip of land known as the Siliguri Corridor — also sometimes referred to as the Chicken's neck. The Doklam Plateau — where troops are currently facing off — overlooks the corridor, which India defense strategists fear could be vulnerable to Chinese attack in case of a conflict.

2. How far back does this dispute go?

An 1890 convention between Britain and China is supposed to determine the location of the border near the Siliguri Corridor. However it contains a contradiction that allows each country to claim support for its position, said Taylor Fravel, who studies border disputes at the Massachusetts Institute of Technology. India contends the border is at Batang La, while China argues it is at Mount Gimpochi, three miles to the south. If China is correct, it would gain access to the Doklam Plateau.

3. What's the status of ties between the three countries?

…

4. What is behind the latest flare-up?

All three sides agree that a People's Liberation Army road-building team entered the Doklam Plateau and started construction. India said that its troops entered Bhutan's territory "in coordination" with Bhutanese authorities to stop the Chinese road builders. There are now about 3,000 troops on each side on the plateau, according to the Times of India. It is the first time that Indian troops have confronted China from a third country.

5. Is it all about a road?

Bhutan's foreign ministry says the road is being constructed on territory subject to a border dispute, and that the two sides in 1988 and 1998 agreed to refrain from changing the status quo of the boundary. China contends that it is operating in its own territory and cites the 1890 convention. The removal of Indian troops from the area is a prerequisite for "meaningful dialogue" to resolve the issue, China's foreign ministry says. India cites a 2012 agreement that indicates the boundary points are yet to be finalized and says China's actions could have serious implications for India's security.

6. Is this stand-off more sensitive than others?

…

7. Will it lead to war as we saw in 1962?

Most observers think not. Conflict wouldn't serve either country's interest. India, with an election in 2019, would risk losing an economically debilitating conflict with a much more powerful foe. China would risk its efforts to present itself as an international leader, filling the shoes of an isolationist U.S.

8. Without war, what other solution is possible?
Full article: China and India Locked in 'Eyeball-to-Eyeball' Border Standoff (BloombergPolitics)