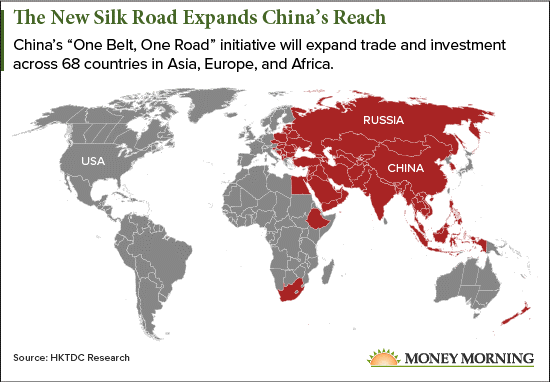 Look at a One Belt, One Road map showing how much of the world China's new Silk Road economic initiative will involve and you'll see one thing right away: This is a massive global undertaking with incredible potential – for China, and investors.

China could invest over $5 trillion into building its Belt and Road initiative over the next 10 years. That could mean a near 50% profit windfall for investors who know where to look…

Money Morning Chief Investment Strategist Keith Fitz-Gerald says the Belt and Road map is only part of the story for investors.

"The 'One Belt, One Road' plan is a $5 trillion initiative being undertaken by China to remake the world in its image," says Fitz-Gerald. "Not 'just' the $1 trillion everybody thinks."

Fitz-Gerald would know, too. He's been following China's new Silk Road expansion since it was a mere rumor in 1997. But now that China has made it official and the mainstream media is finally covering the story, Fitz-Gerald says investors don't have time to wait to invest any longer.

…

The Belt and Road Map Shows China's Growth as an Economic Power

The Belt and Road initiative will lead to trillions of dollars in infrastructure across the participating countries, but China's ambition is larger than that. Chinese officials hope their plan will make them an economic power that could rival the United States' as the world's leading economy.

"The goal is to redefine the global political and diplomatic 'orbit' by drawing entire countries into China's way of doing things," Fitz-Gerald said.

China's One Belt, One Road plan is already working for it, too. Just this week, China held a Belt and Road forum with 29 heads of states meeting in Beijing. This was the largest gathering of world leaders in China since the Beijing Olympics in 2008.

This political and diplomatic shift also means a huge shift in economics. The new Silk Road plan will give China access to over 65% of the world's population and more than 33% of the world's GDP. Even more than access, China's investment will help grow these countries into consumers of Chinese goods.
Full article: This "One Belt, One Road" Map Shows China's Unstoppable Global Growth (Money Morning)