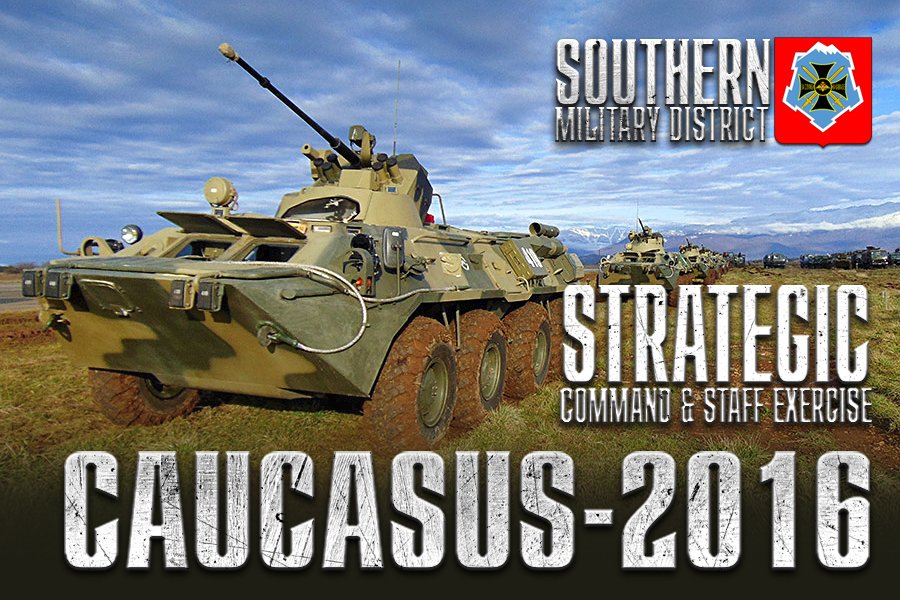 The exercise codenamed as Caucasus 2016 follows a period of heightened tensions between Russia and Ukraine after the Kremlin accused Kiev of plotting terror attacks against Russians in Crimea.

On Monday, the Russian forces began a massive military exercise to test troops' combat readiness and cooperation between different branches of the country's armed forces. The exercise, involving over 12,500 servicemen including Navy, Airborne and Aerospace units was conducted in the south of Russia.

The war games, codenamed Caucasus2016, will be carried out over six days ending on September 10 according to an announcement by the Russian Ministry of Defense. The exercises aim to assess and improve the skills of military commanders "in planning, preparation and conducting of combat operations."

…

The drills additionally look to test new military equipment in field conditions, according to the statement by the Russian Defense Ministry including the country's top of the line combat helicopters, fighter jets and battlefield tanks.

The exercises will involve Crimea on Ukraine's border and will feature cooperative efforts of the Black Sea Fleet and the Caspian Sea Flotilla and follow a period of heightened tensions between Russia and Ukraine after Moscow accused Kiev of sending sbaoteurs [sic] into the Crimean Peninsula to carry out terror attacks.
Full article: Russia Begins Massive War Games Involving Crimea and Russia's Black Sea Fleet (Sputnik News)